Details

Written by

Andy Kaufman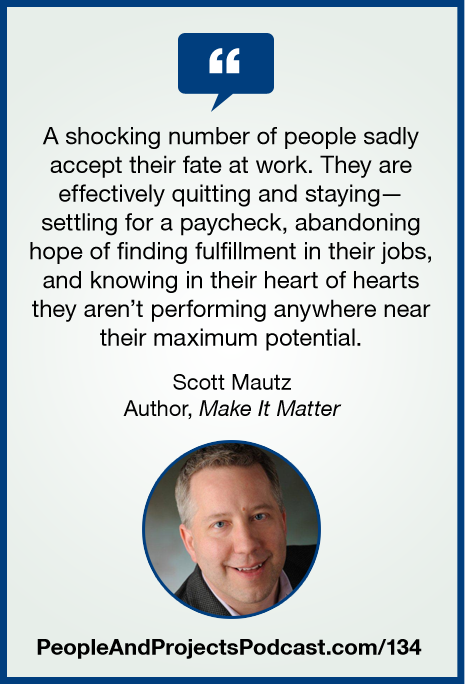 Total Duration 39:04

Download episode 134
Make it Matter
Research on employee engagement is not encouraging. In order for project managers to successfully deliver on project objectives, we typically must have our teams fully engaged. The "3 P's" of Pay, Perks, and Promotions are not typically enough to motivate sustained engagement.
In this episode we welcome Scott Mautz to discuss his new book Make It Matter: How Managers Can Motivate by Creating Meaning.
To learn more about Scott and the book, visit his website at http://scottmautz.com/make-it-matter/.
Let Andy Help You Get 20 PDU's
Check out our Advanced Project Management e-learning workshop! Use a coupon code of PMP-199 to save USD $100. Go to http://www.nanacast.com/advanced-project-management to learn more.
Thank you for joining me for this episode of The People and Projects Podcast! Have a great week!
UNWRITTEN RETURN and GUTS and BOURBON by Kevin MacLeod (incompetech.com) Licensed under Creative Commons: By Attribution 3.0
GOOD MORNING (Feat. Toby Mac) by Mandissa