Details

Written by

Andy Kaufman
Total Duration 36:57

Download episode 121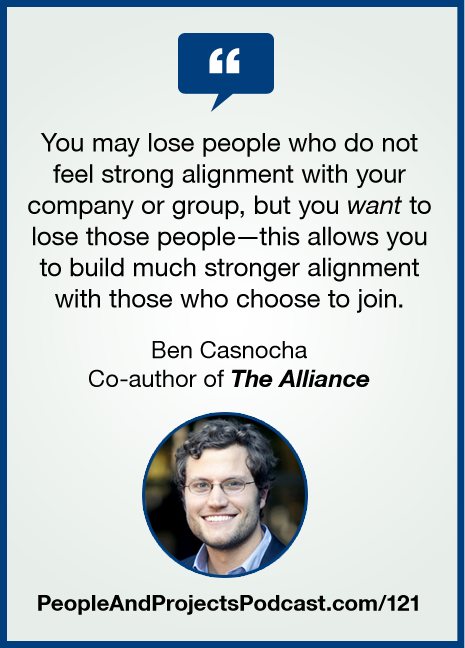 We are Family?
Most companies no longer feel like 'family'. But the 'free agent' approach has limitations as well.
My guest today is Ben Casnocha. He is the co-author of a new book entitled The Alliance: Managing Talent in the Networked Age. Ben and his co-author Reid Hoffman (co-founder of LinkedIn) discuss a new model for managing talent in this new age. Learn more about Ben by checking out his blog at http://casnocha.com/blog.
Helping Your Organization Deliver
We help organizations around the world improve their ability to deliver projects and lead teams. Who in your organization is responsible for planning out next year's training? Have them contact me at This email address is being protected from spambots. You need JavaScript enabled to view it.. We have training classes designed for helping every role in your organization to get better at successfully delivering their work. I look forward to hearing from you!
Join Me for a Free Webinar!

Hey, please join me and other podcast listeners for an interactive discussion about recent episodes! On Wednesday, October 1, 2014, we'll be gathering for an hour at 12:30pm Central Time in the US (GMT-5) to talk about this episode, including key lessons and ways to apply the learning. There's no cost to join and, if you're a certified PMP, you can earn a free PDU!
Thank you for joining me for this episode of The People and Projects Podcast! Have a great week!
BLACK VORTEX by Kevin MacLeod (incompetech.com) is Licensed under Creative Commons: By Attribution 3.0
CAREFREE by Kevin MacLeod (incompetech.com) is Licensed under Creative Commons: By Attribution 3.0