Details

Written by

Andy Kaufman
Total Duration 34:17

Download episode 119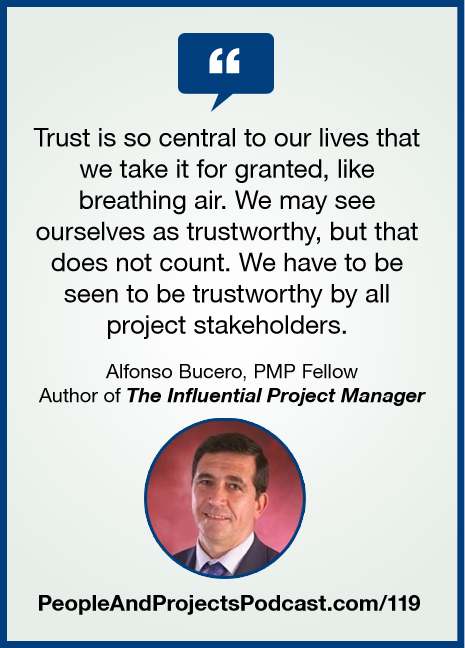 Do You Feel Influential?
Project managers are influencers, though we often think of other sides of the business as the ones who influence the most: senior executives, lawyers, salespeople, etc.
Our guest today is Alfonso Bucero, MSc, PMP, PMI-RMP, and PMI Fellow. He is the author of a new book entitled The Influential Project Manager: Winning Over Team Members and Stakeholders (Best Practices and Advances in Program Management Series). Alfonso shares insights to help you improve your ability to influence your boss, sponsor, team, and other stakeholders.
Helping Your Organization Deliver
We help organizations around the world improve their ability to deliver projects and lead teams. Who in your organization is responsible for planning out next year's training? Have them contact me at This email address is being protected from spambots. You need JavaScript enabled to view it.. We have training classes designed for helping every role in your organization to get better at successfully delivering their work. I look forward to hearing from you!
Join Me for a Free Webinar!

Hey, please join me and other podcast listeners for an interactive discussion about recent episodes! On Monday, August 25, 2014, we'll be gathering for an hour to talk about this episode, including key lessons and ways to apply the learning. There's no cost to join and, if you're a certified PMP, you can earn a free PDU!
Thank you for joining me for this episode of The People and Projects Podcast! Have a great week!
MODERN JAZZ SAMBA by Kevin MacLeod (incompetech.com) is Licensed under Creative Commons: By Attribution 3.0
NOTANICO MERENGUE by Kevin MacLeod (incompetech.com) is Licensed under Creative Commons: By Attribution 3.0