Details

Written by

Andy Kaufman
Total Duration 48:05

Download episode 123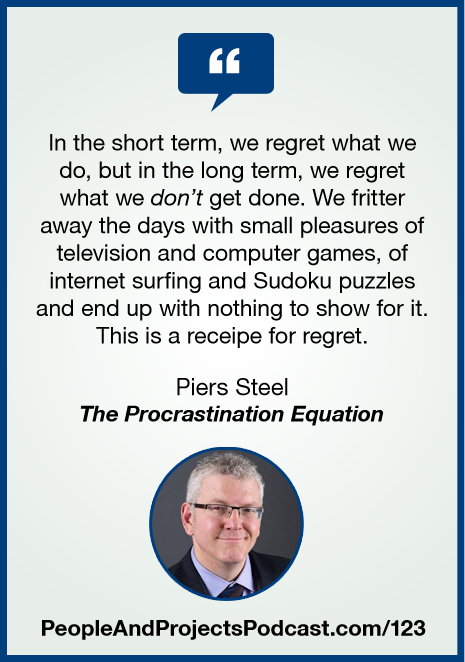 Stop Procrastinating!
I have so looked forward to sharing this episode with you! It's just that.... I kept finding other things to do! But the wait is over!
My guest today is Piers Steel, author of The Procrastination Equation: How to Stop Putting Things Off and Start Getting Stuff Done. Learn more about Piers by checking out his blog at http://procrastinus.com/.
PDU's for a Great Price
If you are aiming for certification or need PDU's, check out our Advanced Project Management e-learning. Use a coupon code of APM-197 to save over USD $100. Our full exam prep e-learning offering can be found at http://www.nanacast.com/pmp-exam-prep. Use a coupon code of PMP-100 to save USD $100.
Join Me for a Free Webinar!

Hey, please join me and other podcast listeners for an interactive discussion about recent episodes! On Tuesday, November 11, 2014, we'll be gathering for an hour at 12:30pm Central Time in the United States to talk about this episode, including key lessons and ways to apply the learning. There's no cost to join and, if you're a certified PMP, you can earn a free PDU!
Thank you for joining me for this episode of The People and Projects Podcast! Have a great week!
SOME OTHER TIME by Tony Bennett and Bill Evans
PUT IT OFF UNTIL TOMORROW by The Kendalls
DEAD by They Might Be Giants