Details

Written by

Andy Kaufman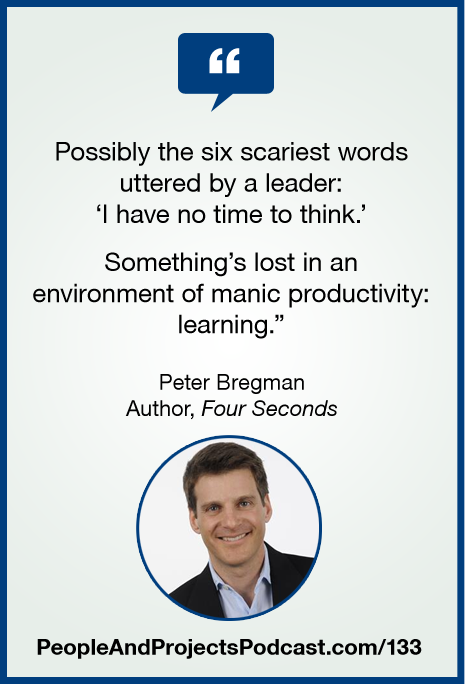 Total Duration 29:45

Download episode 133
A Deep Breath
Have you ever hit Alt-S to send an email and then think, "Um, I wonder if I should have done that?" Or perhaps it was a comment made in a meeting. Words said to a loved one that weren't so loving. What if you would have taken a deep breath before responding?
In this episode we welcome back Peter Bregman to discuss his new book Four Seconds: All the Time You Need to Stop Counter-Productive Habits and Get the Results You Want. Peter is one of my favorite voices in leadership and productivity. I look forward to your feedback after listening to this episode.
To learn more about Peter and the book, visit his website at http://peterbregman.com/four-seconds/.
You can catch my earlier discussion with Peter by visiting http://www.PeopleAndProjectsPodcast.com/64
This Year's Leadership Fast Track Program
There's still time to join this year's Leadership Fast Track Program! The early-bird discount is good until May 31, 2015, and you can sign-up as late as June 11, 2015. Go to LeadershipFastTrackProgram.com to learn more.
Thank you for joining me for this episode of The People and Projects Podcast! Have a great week!
LAGOA v2 and SHOW YOUR MOVES by Kevin MacLeod (incompetech.com) Licensed under Creative Commons: By Attribution 3.0