Details

Published: Wednesday, 23 November 2016 19:09
Written by Andy Kaufman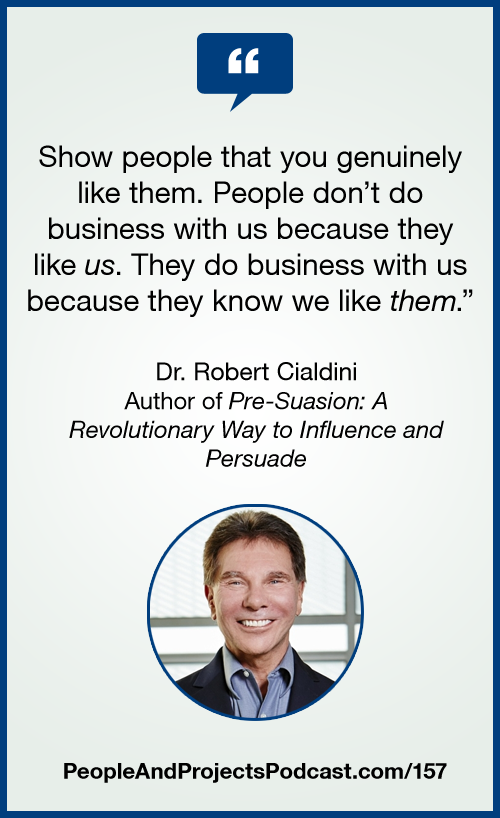 Total Duration 53:17

Download episode 157
Project Managers Influencing Without Authority
Increasingly, project managers need to influence, but do so without authority. Often, without much if any positional power, we need to get a sponsor or team member or other stakeholder to say "Yes". There's no shortage of books on influence, but there's a new one I have been so excited to tell you about. If you've participated in any of our project management or leadership keynotes, workshops, or e-learning, you've heard me talk about Dr. Robert Cialdini, the acclaimed influence expert and author of Influence: The Psychology of Persuasion.
In this episode, Dr. Cialdini joins us to talk about his newest book entitled Pre-Suasion: A Revolutionary Way to Influence and Persuade. You can learn more about Bob and his company at http://www.influenceatwork.com/.
Have Andy Speak at Your Company!
I spend most of my weekdays delivering project management and leadership workshops and keynotes at companies and conferences. Visit https://www.i-leadonline.com/workshops to learn more about how we can help you and your teams learn how to lead and deliver.
Conflict Management e-learning
Project managers face conflict on a daily basis. Learn practical skills while earning PDU's. Learn more at http://courses.i-leadonline.com/courses/beyond-the-rock-and-the-hard-place.
Add Your Voice to Our Upcoming New Year's Episode!
What's something you've learned in the last year? I'd love to have you share it in our upcoming New Year's episode. There are two ways to add your voice to the episode:
Leave your lesson in a voicemail on our Listener Feedback Line at 847-550-3747.
Record your lesson and then send the audio file to me at show [AT] peopleandprojectspodcast [DOT] com.
Please include your name, your location, and a 3-minute or less summary of something you've learned in the last year. It could be something from one of our podcasts. Or it could be from a book or experience. Share it with our project leadership community around the world! I look forward to hearing from you!
Thank you for joining me for this episode of The People and Projects Podcast! Have a great week!
YES by Hecuba is licensed under a Attribution-NonCommercial-ShareAlike 3.0 International License.
THE BEAT INFLUENCE by Cullah is licensed under a Attribution-ShareAlike License